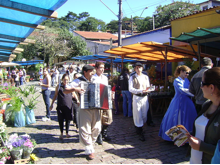 It all started when Cassio M'Boy, image-maker of Embu has emerged to be awarded in Technical Arts Exhibition in Paris. Cassius, however, was already, before that, professor of artists and used to get in your home exponents of Week of  '22, including Anita Malfatti, Tarsila do Amaral and Alfredo Volpi, among others.
The artistic tradition of the city gained prominence within and outside Brazil in 1964 with the First Hall of the Arts. But it was in the late 1960s that came the hippies, exposing their craft work on weekends, and gave rise to the Arts and Crafts Fair, traditional and very popular today in the region.
Currently in this fair, you can buy as well as jewelry, pieces of rustic wooden furniture, garments made in looms, handmade sweets and jams, and more.
Also worth checking out in Embu das Artes:
Chapel of  São Lázaro
Its origin is linked to an image of Saint Lazarus are carved in wood by the artist Cassius M'Boy in the 1920s. The image has attracted large numbers of devotees and in 1934 a chapel was built to house it. In 1969, the chapel was restored, approaching the lines of the architecture of the Jesuit Church of Our Lady of the Rosary.
Museum of Sacred Art
Its architecture shows characteristics of the Baroque style of São Paulo and a wealth of images of angels, saints and biblical characters, almost all carved in wood, modeled in clay or rock in frames, produced between the seventeenth and nineteenth centuries.
Nossa Senhora do Rosário Complex
It is formed by the church and the former residence of the priests, combined in the same building. It is one of the most important Jesuit buildings in Sao Paulo, characterized by simplicity of straight lines.
Historical Center
Lots of art galleries, rustic furniture and handicraft shops. A wide variety of gastronomic typical Brazilian food and international cuisine.
Cultural Center of Embu (Mestre Assis):
It occupies today, the historic town hall and the visit is free.